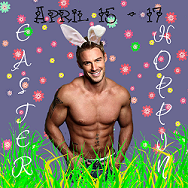 IandSsmom
Shannon Johnson !!!!!
Congratulations Shannon!
A Big Thank You to all of the participants; authors, bloggers and readers alike.
Stay tuned for the good stuff as after a *month* of family vacationing I plan on getting back into the blog business hot and heavy, so to speak :)
Here's to blog hopping and to the hope that something like this comes along many more times.
Peace out, and I am going to enjoy the bed part of this bed and breakfast. This place is positively fabulous!!
Kiwi