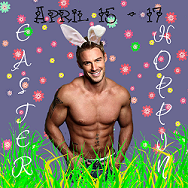 Hi all and welcome to your Nth stop on our Easter Hoppin' Blog Hop tour, Kickin' Back with Kiwi.
As you probably can tell, our blog is still in its fledgling state, but feel free to stop back as we are always changing and growing as our steadfast creator works hard at becoming blog literate, html savvy and reacquaints herself with the english language as spoken by real adults with a real vocabulary that doesn't include the word "potty".
The prizes for stopping by on your way through all these wondrous blogs are a copy of two books that were recently read by our tireless writer (not the one's I actually read, lol, but brand spankin' new copies.)
Archangel's Kiss by
Nalini Singh
and
Blood Trinity by
Sherrilyn Kenyon
and
Dianna Love
The steps to enter our contest are simple ones....and in reality there is only one. Just follow this blog. It's that simple. Follow this blog and the gods of random shall choose the lucky recipient of these awesome titles. Oh and live in the US...so I guess there really are "steps".
Giveaway ends April 17, 2011 at 11:59 PM EST. Please include your email in the comment so I can contact you if you win. Random.org will be used to select a winner. Winner will be announced the next day on the blog!
We thank you for stopping at Kickin' Back with Kiwi and wish you a pleasant trip on the rest of your Easter Hoppin' Blog Hop Tour.
Please watch your step as you exit to the right.